Since the beginning of Motorola, the moto g family approach has focused on the democratization of key features so that more people around the world can access and enjoy premium technologies. 
Strengthening this mission, today, with the launch of the new moto g84 5G and the moto g54 5G, Motorola's latest smartphones offer an elevated entertainment experience, robust camera systems, fashionable colors with outstanding design and vegan leather finish1, 5G speeds2, and more. 
moto g84 5G: a stunning design with the PANTONE Color of the Year and vegan leather finish
The moto g84 5G offers a stylish design and sharper camera details for lasting memories. This device features unique colors while including a camera system with OIS, ultra pixel technology, and an immersive 6.5" infinite contrast pOLED display.
With the moto g84 5G, consumers can expect ultra-sharp images on a 50MP camera system. Contributing to image clarity and vibrancy, Ultra Pixel technology lets in more light by combining pixels into a large 2.0µm pixel, producing photos that are bright and beautiful, while OIS ensures that they are shake-free. For additional angles and perspectives, there's a 8MP ultra-wide lens with Macro Vision so users have their choice of viewpoints, and a 16MP selfie camera with fast focus to capture smiles instantly.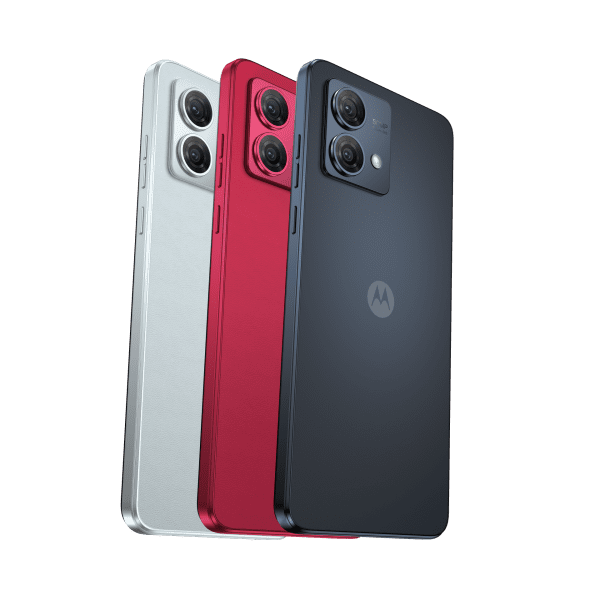 Bringing a splash of color to the moto g family, moto g84 5G consumers can incorporate the PANTONE™3 Color of the Year 2023, PANTONE Viva Magenta, in their everyday looks. This shade embodies self-expression without restraint and is complemented by a soft, vegan leather backing. The Marshmallow Blue color option also offers this vegan leather finish, a fashionable choice that is soft to touch and easy to grip, while the Midnight Blue color features a matte plastic backing for a sleek, high-end profile. These finishes complement the device's ultra-light, ultra-thin look, which includes a sleek profile, bold metal camera housing and borderless display. Together, they maximize space for maximum fun. There's also an IP54 water-repellent design4 to keep our consumer's device safe, and looking good, when encountering accidental spills or splashes.
Users can see the big picture with a 6.5" ultrawide, infinite contrast pOLED display. This qualification illuminates every pixel individually, producing deeper blacks and more vivid colors, for an engaging entertainment experience. DCI-P3 and 10-bit color depth also contribute to this, offering over a billion shades of color to create a truly cinematic display. There's a fast 120Hz refresh rate5 so every scene, video or game moves smoothly and looks true-to-life, and up to 1300 nits of brightness so users can see their screen clearly in direct sunlight. 
This display technology is complemented by support for Dolby Atmos® for immersive audio. With more layers and sharper details, Dolby Atmos delivers a richer, multi-dimensional sound experience across all your favorite entertainment. This device also features Spatial Sound by Motorola for high-quality output and enhanced spatial sense, so consumers feel entrenched in audio – whether they're listening on the powerful stereo speakers or with earbuds. Powering these advancements, the Snapdragon® 695 5G Mobile Platform pushes out speeds up to 2.2 GHz with a 6nm process node, so consumers can enjoy smooth gaming, high-end photography and near lag-free streaming with incredible efficiency. They can also utilize up to 12GB of RAM and 256GB of storage6,7 to multitask easier and hold everything they need.

Additionally, moto g84 5G users will be able to expand their mobile experience to a TV or monitor8 for more immersive entertainment or increased productivity. And more, by connecting it with a PC9,  which allows them to access their phone apps and PC files all on the same screen.  This includes sharing files and images between the two devices, using the high-res camera instead of the webcam, answering calls or responding to messages directly from the PC.
Consumers can also play all day without running out of power, thanks to a long-lasting 5000mAh battery10. When it's time to recharge, they can turn to TurboPower™ 30W charging to fuel up and get back to what matters.
moto g54 5G: an unmatched entertainment experience
The moto g54 5G provides users with an extraordinary entertainment experience featuring a 6.5″ display that fits comfortably in hand. Users will feel immersed in heart-racing games and feel like they're right in the room on video chats, and the 20:9 aspect ratio allows for less scrolling and more screen for browsing websites and reading content.
Users can also watch shows in native Full HD+ without sacrificing image quality on a standard display. And with an incredibly fluid 120Hz refresh rate11 – switching between apps, playing games, and scrolling websites feel smooth and seamless. The refresh rate adjusts automatically based on the type of content on the screen. To complete this impressive entertainment experience, the moto g54 5G also arrives with support for incredible Dolby Atmos® sound, Spatial Sound by Motorola and stereo speakers.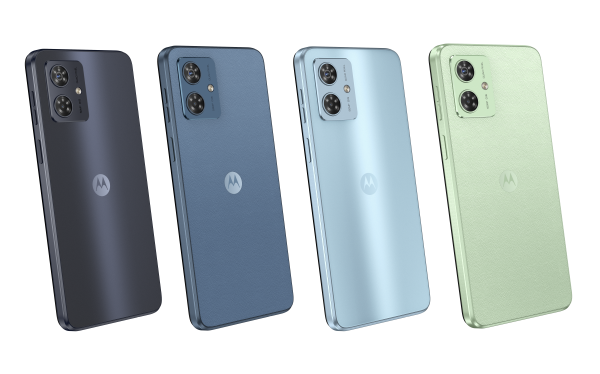 The moto g54 5G features a 50MP sensor with OIS that takes beautiful shots with brilliant details. This device also comes with Quad Pixel technology for 4x better low light sensitivity for sharper, more vibrant photos—day or night. The dedicated Macro Vision camera lets users get incredibly close to a subject, capturing the tiny details often missed with a standard lens. The 16MP front camera completes this advanced camera system which also comes with Face Retouch for automatically enhanced photos, so subjects always look their best.
To ensure users get the most of 5G, Motorola has included the MediaTek Dimensity 7020, a powerful octa-core processor that offers frequencies up to 2.2GHz. Experience gaming without glitches, smoother videos, and even more amazing movies. And with superfast 5G, users can download them at lightning-fast speed2. Users also don't have to worry about battery life thanks to the 5000mAh battery.6 When it's time to recharge, users can take advantage of the blazing speed of TurboPower™ charging.
The outside of the device is just as important as what is inside. That's why moto g54 5G is designed to stand out with a streamlined aluminum camera housing, a premium matte finish that feels great in hand. And for a little luxury, there's a special edition made from vegan leather.1,6 All kept safe from accidental spills and splashes thanks to a water-repellent design3.
Availability
moto g84 5G will be on sale across selected markets in Europe and Mexico today with a starting MSRP of €299. moto g84 5G comes in PANTONE Viva Magenta, the PANTONE Color of the Year 2023, Marshmallow Blue and Midnight Blue. This device is already available in India and will roll out to selected markets in Latin America in the coming weeks. For local price information and availability, please contact your local PR team.
moto g54 5G arrives today in selected markets in Europe and Mexico with a starting MSRP of €179. This device is already available in India, with slight changes in specs, and will roll out in selected markets in Latin America and Asia Pacific in the coming weeks. For local price information and availability, please contact your local PR team.