Today, in partnership with the Lenovo Foundation, Motorola is excited to announce the next phase of our indigenous languages digital inclusion initiative with the addition of two new languages – Kuvi and Kangri – spoken in regions of India. Over the last two years, we've added the support of three endangered indigenous languages to our devices – Cherokee (spoken in the United States), Kaingang (spoken in Brazil) and Nheengatu (spoken in the Amazon). We're incredibly thrilled to continue our commitment to embracing inclusivity and delivering smarter technology for all, by delivering the first-ever Kuvi language writing system and keyboard, and a fully localized Kangri smartphone User Interface to our devices.*
Of the 2,464 endangered languages around the world listed in the UNESCO Atlas of World's Languages in Danger, India tops the list with 197 endangered languages, followed by the U.S. (191) and Brazil (190). When selecting the languages for this most recent phase of our project, we analyzed many factors including the percentage of speakers in the communities to indicate loss of language, community access to technologies, engagement with the broader community, and availability of linguistics resources. We found that while the Kuvi language community accounts for about 155,000 people, who live primarily in Odisha and Andhra Pradesh, India, only about 9% of the people in the region still speak the language. Similarly, we discovered that while Kangri is spoken by around 1 million people in India, only a very small fraction are fluent speakers.
The first-ever Kuvi language writing system
With this project, Motorola and the Lenovo Foundation worked closely with the Kalinga Institute of Social Sciences (KISS) under the guidance of Dr. Achyuta Samanta, Founder, KIIT & KISS and leadership of Dr. Sushree Sangita Mohanty and support from the Kuvi speakers & language experts to determine the needs of the Kuvi communities in all regions where Kuvi is spoken. Together we determined that the most important step in Kuvi Language Preservation would be to develop the first-ever Kuvi language writing system. Additionally, to facilitate the usage of this new written system, we created a Kuvi keyboard supporting 4 scripts – Kuvi Odia, Kuvi Telugu, Kuvi Devanagari and Kuvi Latin. The new keyboard is available for download via the Google Play Store to help with the utilization of the written form in smartphones and allow for other forms of digitization.

"We at Kalinga Institute of Social Sciences (KISS) are delighted to partner with Motorola and Lenovo Foundation in this one-of-its-kind project to revitalize the endangered status of Kuvi language," said Samanta. "KISS with support from the Lenovo Foundation has been integral in bringing together the member of tribal communities (Kondh, Kond and Jatapu), linguistic & technical experts, and various other fraternities to collaborate with the Motorola Software Globalization team and develop a keyboard for the Kuvi Language. This initiative sets the path for the revival of many more such languages, helping to preserve the rich legacy, knowledge and heritage that rests in the depths of our country."
The first fully localized Kangri Smartphone User Interface
We also worked alongside linguists, scholars, and experts from the Kangra, Hamirpur and Una districts of Himachal Pradesh, to deliver the first fully localized Kangri. Smartphone User Interface, in both AOSP content and Motorola Experience apps. To make for a seamless Kangri experience on our devices, we also added Unicode Common Locale Data Repository (CLDR) support with a richer Kangri language data and user interface, all locale-specific patterns for formatting and parsing such as dates, times, currency, measure units, country & language information. Localizing over 200,000 English words into Kangri on our devices means that from the moment a Kangri user sets up their device, they can select the language and navigate a richer UI for both Android AOSP and Motorola experiences.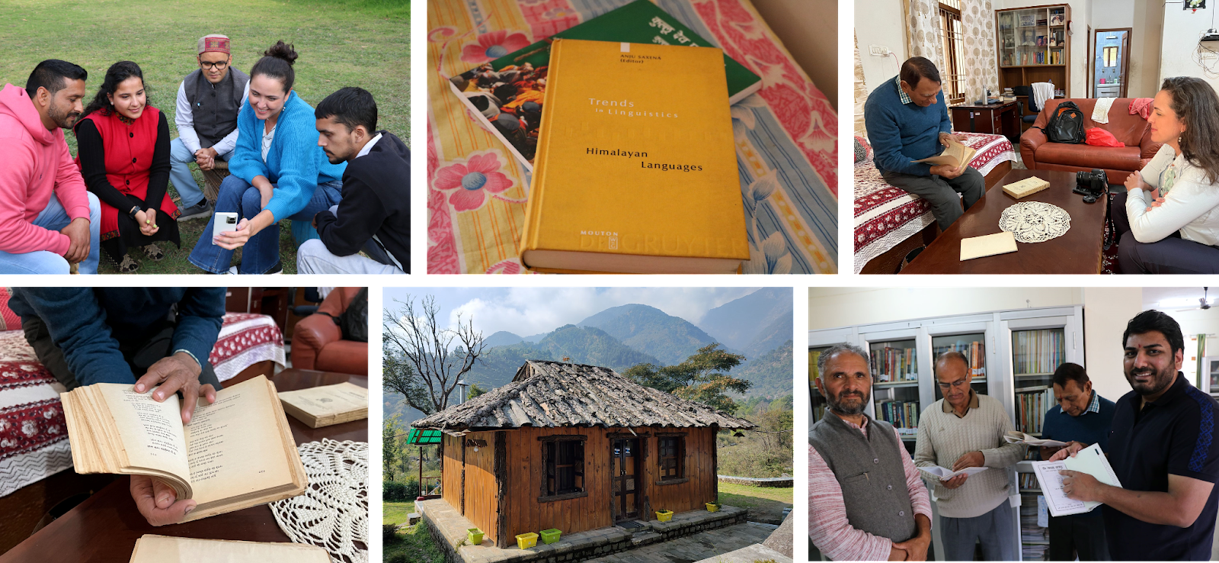 "With just about 1.7 million speakers of Kangri from a total 1.4 billion people who make India, Motorola and Lenovo Foundation's language revitalization effort is truly a testimony of their commitment to preserving endangered languages," said Professor Sunhu Sharma, consultant to Motorola's Endangered Indigenous Language Initiative for Kangri. "The project was humongous and extremely gratifying, as researchers, tribals, linguists, and tech professionals, worked together to localize over 200,000 English words into Kangri on Motorola's devices, which will enable Kangri speakers to set up their device in their language and navigate their phone in their mother tongue."
To further our efforts in bringing more awareness and action to revitalize endangered indigenous languages, this past December, Sergio Buniac, President of Motorola, announced at UNESCO's International Decade of Indigenous Languages event, that we are also partnering with UNESCO to conduct further research on the impact and potential of digitizing endangered indigenous languages. "Lenovo and Motorola, in collaboration with UNESCO New Delhi Office, are in the planning phase to develop a toolkit sharing experiences and technology in digitizing endangered indigenous languages," said Hesekiel Dlamini, Officer in Charge, UNESCO, New Delhi. "This is in line with our shared vision for digital inclusion of indigenous communities."
In addition to these languages, we also recently introduced a new logo dedicated to our indigenous languages digitization initiative. The new logo is meant to make support of these languages more recognizable on our devices and raise awareness towards the cause.
"With each phase of our endangered indigenous languages project, our goal is to help bridge the gap in digitally inclusive technology and inspire more actions towards the revitalization of these languages", said Janine Oliveira, Executive Director of Globalization Software at Motorola Mobility. "The addition of Kangri and Kuvi to our growing list of supported languages is a milestone we're excited to celebrate, but our work doesn't stop here."
Moving forward, we will continue to conduct research alongside indigenous communities and engage with regional teams to enrich Motorola experiences and the lives of our incredible consumers.