At Motorola, we believe consumers deserve the most pure Android OS possible, without clunky software skins or duplicate apps. Instead, we build on the great things Google does with Android with a comprehensive suite of experiences called My UX, putting you in control of your mobile experience. My UX encompasses all the great moto experiences, moto specific apps and unique customizations to take music, videos, games, and your phone's style to the next level. Whether it's turning on the flashlight with a simple chop gesture, launching the camera with the twist of a wrist, bringing creativity to life with moto note or changing your icon shapes, color schemes and display font to fit your style – it's all a part of My UX.
And since My UX doesn't get in the way of a pure Android experience, users get to make the most of new customizations and updates coming on Android 12.
What to expect with your Android 12 Update
Material You on Motorola Smartphones
Reflect your personal style across your whole device.
AndroidTM 12 rethinks the entire user interface, from shapes, light and motion, to customizable system colors that can be adapted to match you. Material You is Google's material design language that elevates what we've already begun with My UX. It prioritizes simplicity while adding personal touches that let you control Android 12's visual elements according to your preferences. Redesigned to be more spacious and comfortable, it's the most expressive, dynamic and personal OS ever.
Now, you can change the wallpaper on your device and your entire Android 12 experience changes to match. Using advanced color extraction algorithms, you can easily personalize the look and feel of your entire phone, including notifications, settings, widgets and even select apps. We're combining the dynamic color, rounded shapes, and large open layouts from Material You with the rich, premium feel of the Motorola brand.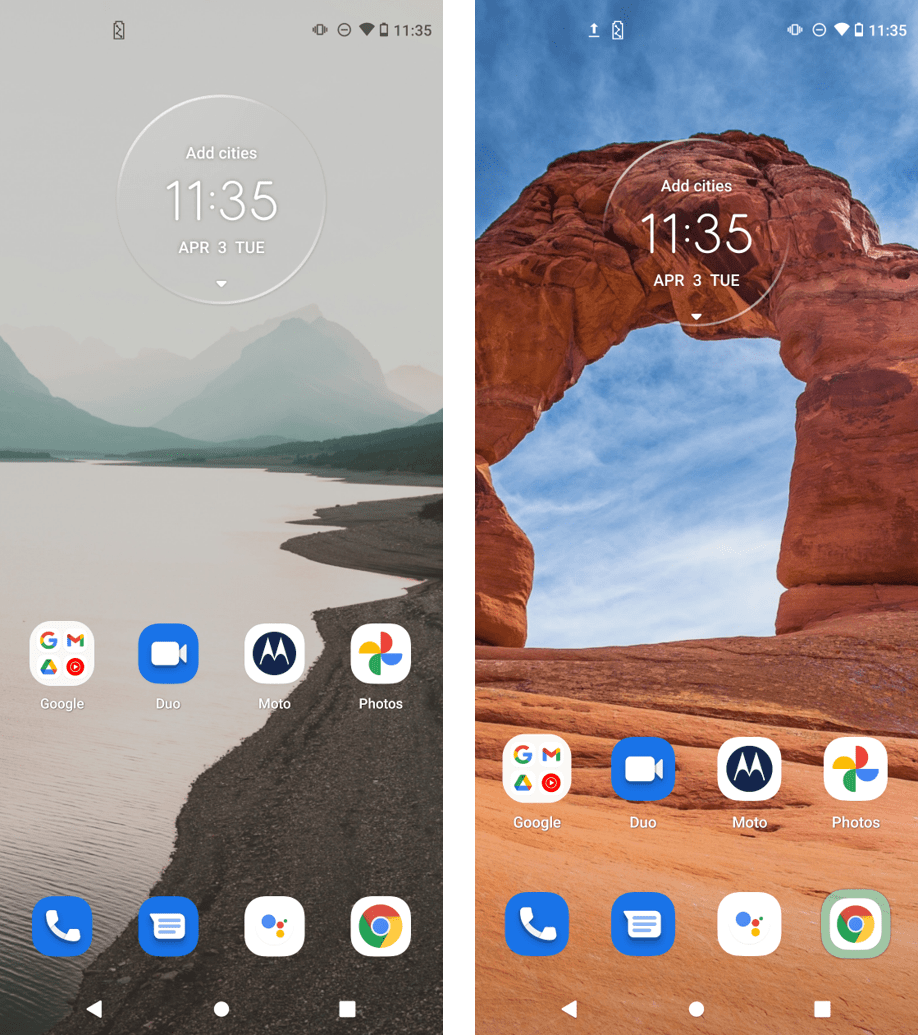 Best of all, these settings are now centralized in one convenient place. Just access Personalize from the home screen menu, then make individual changes to font style and size, colors, icon shapes and layouts, device sounds, display size, and your wallpapers.
Conversation Widgets
Control your connected devices from one place.
An all-new conversation widget puts the messages with the people you care about front-and-center on your home screen so you never miss a chat from your loved ones. You can even see missed calls, birthdays and more at a glance.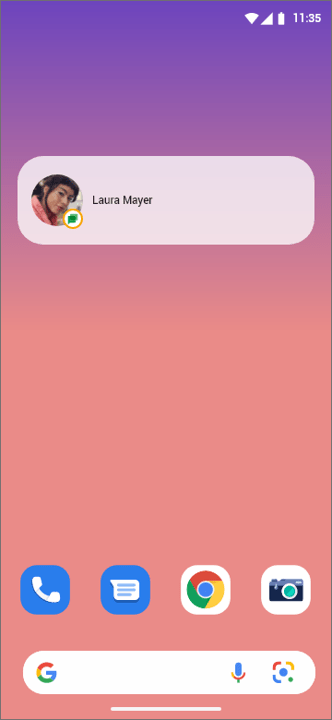 Accessibility Improvements
Built for accessibility.
Android 12 is designed to be even more accessible with new visibility features, including:
Area magnification: A new window magnifier lets you zoom in on a part of your screen without having to lose context on the rest of the screen content.

Extra dim: Make your display extra dim for night-time scrolling or situations when even the lowest brightness setting is too bright.

Bold text: See text more clearly with the ability to switch the font to bold across the whole phone.

Grayscale: Adjust how colors display on your device to grayscale.
Mic & Camera Indicators and Toggles
Stronger mic and camera access controls.
With Android 12, you can see when an app is using your microphone or camera thanks to a new indicator in your phone's status bar. And if you don't want any apps to access your microphone or camera, on our new devices launching on Android 12, you can completely disable those sensors using two new toggles in quick settings. Simply flip the switch.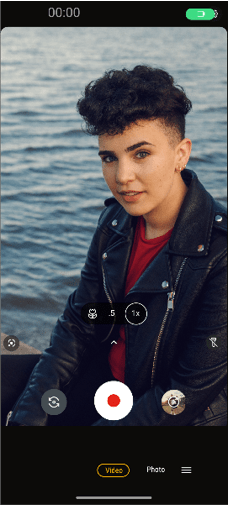 Approximate Location Permissions
Keep your precise location private.
While some apps need precise location information for tasks like turn-by-turn navigation, many other apps only need your approximate location to be helpful. With Android 12, you can choose between giving apps access to your precise location or an approximate location instead.
Privacy Dashboard
Your privacy permissions at a glance.
Privacy dashboard gives you a clear and comprehensive view of when apps access your location, camera, or mic over the past 24 hours. If you see anything that you're not comfortable with, you can manage permissions right from the dashboard.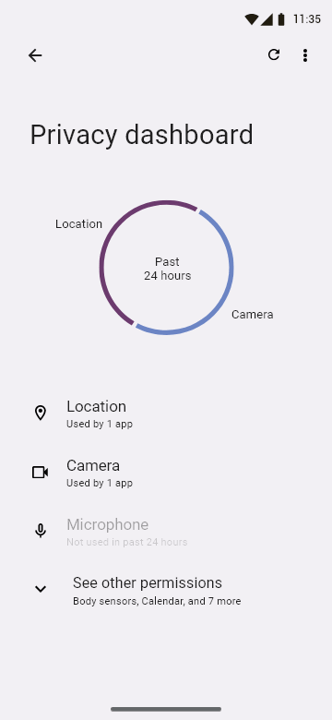 We're also continuing our commitment to exceptional security through Thinkshield® for Mobile, which offers enhanced protection via a secured chain of trust and additional security certifications.
Enhanced Gaming
Kick-start your gameplay.
Spend less time waiting and more time playing. Android 12 lets you play as you download, so you can jump straight into gameplay without needing to wait for the full download to finish.1 And Moto Gametime takes the whole experience to the next level, giving you advanced controls that allow you to block notifications, screen record, and control the audio while playing your favorite games.
Easily Switch Phones
Switching made easy.
It's never been easier to switch to Android and try out the best device for you. Starting on Android 12, you can transfer all your essentials by connecting your old phone to your new Android with a cable or shared WiFi connection. Your memories and data will transfer, stress free – even from iPhone® (welcome!)
These are just a handful of updates you can expect in this Android 12 update. Users can expect even more software features like new My UX experiences, new camera features and new Ready For2 experiences to become available in 2022.
Android™ 12 OS comes with big changes but we're hard at work finalizing our Android 12 OS + My UX experience. Android 12 is currently undergoing beta testing with our Motorola Feedback Network, and our official Android 12 rollout will begin in February 2022. For future roll out updates, Motorola device owners can visit our software support page to learn more.
razr 5G
razr 2020
motorola edge 20 pro
motorola edge 20
motorola edge 20 lite
motorola edge 20 fusion
motorola edge (2021)
motorola edge 5G UW
motorola edge plus
motorola one 5G ace
motorola one 5G UW ace
moto g200 5G
moto g71 5G
moto g51 5G
moto g41
moto g31
moto g100
moto g60s
moto g60
moto g50 / moto g50 5G
moto g40 fusion
moto g30
moto g power (2022)
moto g pure
moto g stylus 5G
business edition phones
moto g pro
motorola edge (2021)
motorola edge 20
motorola edge 20 lite
motorola edge 20 fusion