Today, the new moto g stylus 5G joins the moto g family in North America. The new moto g stylus 5G features a built-in stylus, lightning-fast 5G speeds1 and the very powerful Snapdragon® 6 Gen 1 Mobile Platform, offering new opportunities for content creation, enhanced connectivity and fast navigation across apps, note taking, editing and more.
The actions on the built-in stylus are now simpler and more natural, making it even easier for consumers to flex their creativity by drawing or editing photos, capturing that brilliant idea or fleeting thought via Moto Note, or playing their favorite games. Versatile stylus functions include:
Handwriting Recognition Calculation, an AI-driven feature to turn handwriting into a numerical value, making it quicker and easier to do quick math on the go.
Lasso Tool for Draw to select, copy and move objects to create social media-ready graphics.
Live Message to draw or share animated illustrations across popular messaging apps.
Optical Character Recognition to extract text from a written or printed document for easy sharing or record-keeping.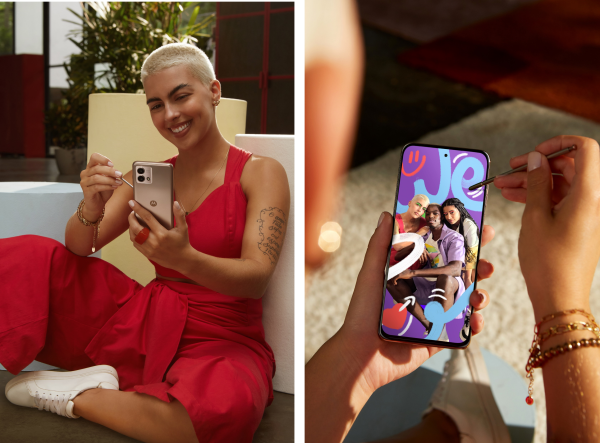 Enriched performance and entertainment experiences
All of these actions are powered by the Snapdragon 6 Gen 1 Mobile Platform, giving users access to blazing-fast 5G1 networks, so they can stream movies, play games and video chat without lag. These speeds also help elevate this device's audio-visual experience, which is composed of a 6.6" FHD+ screen, stereo speakers and immersive Dolby Atmos® sound. With Dolby Atmos, enjoy a richer audio experience that brings out more depth, clarity, and details in entertainment when enjoyed over headphones or through the device's two stereo speakers. The expansive screen with a 120Hz2 refresh rate stretches from edge to edge with razor-sharp detail, giving users plenty of room to express their creativity and switch from app to app when using the stylus.
Brilliant photos and the space to hold them all
The moto g stylus 5G camera system is ready to capture every moment. The advanced 50MP main camera with Ultra Pixel technology lets in more light, producing sharper, more vibrant photos. There's also a 8MP ultrawide, macro vision and depth lens so consumers can experience three amazing perspectives in one camera. From fitting in stunning landscapes to capturing the tiniest of details or even taking professional-looking portraits, there's a lens designed to meet everyone's needs.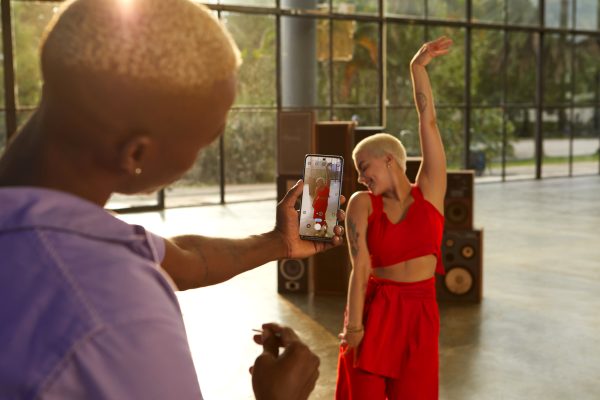 Consumers can keep photos, sketches, movies, music and more with 128/256GB3 of built-in storage3, and get an extra 2TB of external storage when using a microSD card4,5. The new moto g stylus 5G also includes a 5000mAh battery, lasting up to two days on a single charge6.
A robust security and software suite
The new moto g stylus 5G features Android™ 13 and unique Motorola experiences, including simple gestures, custom entertainment settings or personalization options. This device also delivers a suite of advanced security features for additional peace of mind, including:
Moto Secure: The go-to destination for all vital device security and privacy features.
Family Space: A designated "safe space" on one's phone for kids to learn and play. From there, guardians can set limits on screen time, control accessible apps and create multiple profiles for the whole family.
ThinkShield: A security hub that enhances protection at every level and meets the highest standards in protecting consumers from malware, phishing and other threats.
Availability
In the U.S., the new moto g stylus 5G will be available at Cricket on June 2, with subsequent availability at AT&T, T-Mobile, Metro by T-Mobile, Google Fi Wireless, UScellular, Consumer Cellular, Optimum Mobile, Spectrum Mobile, Xfinity Mobile, Boost Infinite and Boost Mobile. The new moto g stylus 5G will also be available universally unlocked at Amazon.com, Best Buy and Motorola.com starting June 16 (MSRP: $399.99*)
In Canada, the new moto g stylus 5G will be available on motorola.ca and through select carriers and national retailers in the coming months.
*Pricing varies by carrier; to be communicated by carriers upon availability