At Motorola, we're always looking for opportunities to bring unique innovations to our consumers, like the new motorola razr ultra 40/ razr+. But regardless of how game-changing the innovation is, we also believe that it needs to serve a purpose, solve our consumers' pain points and delight them with useful features. Here are a few of our favorite features on the new motorola razr 40 ultra/razr+. 
do more without even flipping open the device
We heard from consumers that they wanted more functionality from the external display, so we equipped razr 40 ultra/razr+ with the largest, most advanced external display on a modern flip smartphone*. Not only is it larger, but it also offers expanded capabilities for productivity, gaming, entertainment and personalization. 
Users can watch their favorite shows and movies, take a selfie, or get directions using the large 3.6" 144Hz external display. They can also type a quick reply with a full built-in keyboard or use the dedicated Spotify panel to switch to custom playlists, select new stations and even see recommended artists and playlists, curated just for them. Plus, they can seamlessly continue whatever activities they're doing on the internal display, on the external display once closed.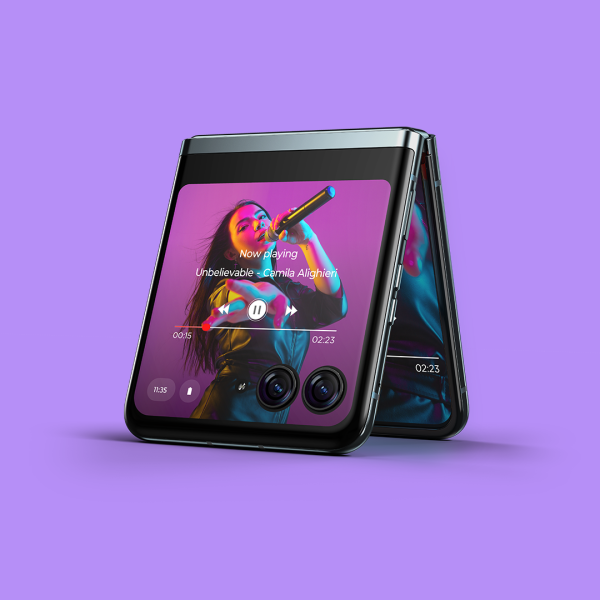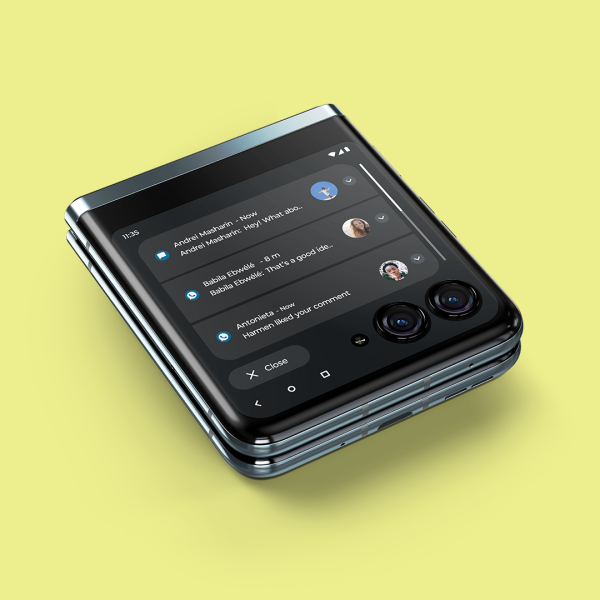 Customization is also among the top priorities for our consumers. That's why we've equipped users with the option to choose from an assortment of colorful live wallpaper designs, moto clock styles, shortcuts for easy navigation, and panels so it's arranged just the way you like it. 
content capturing just got a whole lot easier
Now more than ever we're seeing the value consumers place on the ability to quickly capture content. So when designing the razr ultra 40/ razr+, we made content creation a priority throughout each component. 
With Flex View, the possibilities are endless. The ability to stand the phone on its own at multiple angles gives consumers built-in tripod capabilities on the go, and opens up new ways to interact, capture, and create. Plus with the high-quality cameras, AI face tracking, hands free recording, and previews on the large external display, users are able to more easily produce amazing social media content.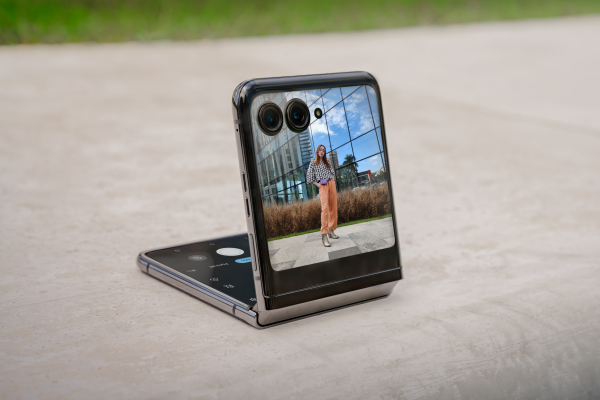 camera experiences worth raving about
The motorola razr 40 ultra/ razr+ not only comes equipped with a powerful 12MP main camera sensor with Instant Dual Pixel PDAF for a faster, more accurate performance no matter the lighting conditions but also some brand new camera software features to match.
Thanks to the Flex View and high-quality cameras, it's super simple to capture gorgeous selfies. With the Photo Booth feature, users can preview and capture four different poses in four perfectly timed pictures, all triggered by a simple open-palm gesture.

Users can also leverage the large external display as a mirror before taking a selfie with the high-quality cameras, which let users zoom in 3x closer than a standard lens to see every little detail.

iconic, pocketable and stylish as ever
The motorola razr – the world's first flip smartphone – introduced engineering breakthroughs and while evolving razr's design, we looked for areas of continuous refinement.  razr 40 ultra/ razr+ delivers the perfect balance of style and innovation and is the thinnest flippable smartphone in the industry when flipped closed, when compared to other foldables in the market. The reimagined hinge mechanism makes for a virtually creaseless, smooth, and seamless touchscreen experience when opened. And the colors, matte glass or vegan leather finish, and materials used to make an ultra-sleek, modern look and feel when flipped shut.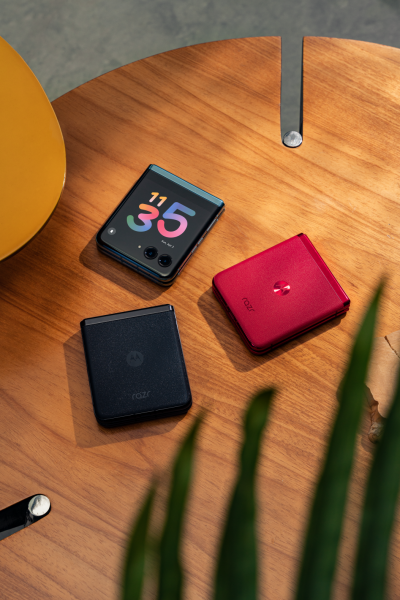 For local price information and availability, please contact your local PR team.
---
Legal disclaimers
Certain features, functionality and product specifications may be network dependent and subject to additional terms, conditions, and charges. All are subject to change without notice. RAZR® is a registered trademark of Razor USA LLC; RAZR and RAZR-formatives are used with permission of Razor USA LLC. MOTOROLA, the Stylized M Logo, MOTO and the MOTO family of marks are trademarks of Motorola Trademark Holdings, LLC. All other trademarks are the property of their respective owners. ©2023 Motorola Mobility LLC. All rights reserved.
motorola razr 40 ultra/motorola razr+ is designed and manufactured by/for Motorola Mobility LLC, a wholly-owned subsidiary of Lenovo.
*Based on the following features not found in other vertical flip phones: 3.6″ screen size, up to 144Hz refresh rate and 1056 X 1066 resolution.